Search
Property detail & price proposal
Reserve
Thank you
Ala Moana Hotelcondo 3426 2br/3ba Regal Suite-1K2Q
34th Floor Ala Moana Large Regal Suite - 2Br/3Ba, Book Now at Special Rate!
2 Bedrooms for 6 guests (max. 6)
410 Atkinson Dr., Honolulu
Contact a rental agent
Call us
US 808.784.3410
Canada 808.784.3410
or use Contact Us form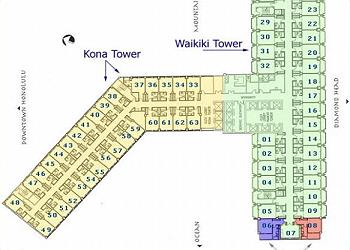 Description
Surround yourself with everything you'll need for your Hawaiian Vacation--Beaches, Ocean Views, Shopping and Dining all at your door

Here in our 34th floor 2 bedroom/3bath Regal Suite at the Ala Moana Hotelcondo, you will experience island-style comfort in one of Hawaii's most convenient locations.

Our Regal Suite features a unique large floor plan, well-stocked kitchen, dinning table, and HD tv. You can also enjoy panoramic views from multiple private balconies and stay connected with complimentary Wi-Fi service.

While you have all the en-suite comforts you may need, you'll probably find yourself spending very little time in unit. Take the hotel's exclusive Sky Bridge to Ala Moana Shopping center with over 290 retail shops, restaurants, and specialty boutiques.

Just down the road, walking distance from the building, is Ala Moana Beach park, where you can surf, sun bathe, or stroll down the beach.

Transportation around the Ala Moana Hotelcondo is fantastic. Simply hop on a trolley to take the short 5-minute ride into the heart of Waikiki, where more shopping, dining, and beaches abound!


****************What's Included?****************
-Hotel resort fee is included.
-We provide Welcome Kit (shampoo, conditioner, bar soap, paper goods: bathroom tissue, toilet paper and paper towel) for no refill or replacement during your stay.
-Free Wi-Fi

****************What's NOT included?****************
-We do NOT provide daily housekeeping services or towel/linen change. Coin operated washers and dryers are available on 6th and 13th floor.
-Parking is available in the building (based on availability) with an additional charge paid to the Hotel directly.


Hawaii GET & TAT #057-703-0144-01
Address

410 Atkinson Dr., Honolulu

Bathroom

3
Area

1915 ft2

Beds

2 Queen, 1 King
Reviews for this property
Home Away From Home

Kaneohe United States, 06. September 2019

Stayed for 3 days in August, 2019

This is the second year we rented this room and we live it! It's spacious and comfy and has beautiful city views! It's convenience across the street from the Hawaii Convention Center made it so easy and fast for us to get to this year's Okinawan Festival! The customer service received from this company was so spot on! Especially Rui who answered my many questions so efficiently, professionally and with so much Aloha! The only concerns or issues we had was while wiping down the stove, there seems to be a button that made the stove turn on! We were extra careful to be sure the stove was off when leaving the kitchen. Also the bathtubs were really high to step over, I would suggest installing extra hand bars near the front outer edge of the bathtub. Otherwise, we felt we were at our home away from home and will definitely look at renting this place again!

Response from Asset & Management Int'l, LLC dba Gaia Hawaii Vacation Rental

13. September 2019

Aloha, Thank you again for choosing Gaia Hawaii for you vacation here in Hawaii, and thank you for taking your time to write us a feedback. We are very pleased that you have enjoyed your stay at our unit at Ala Moana Hotel. We will definitely check into to the stove in the unit and see why it turns on with only wiping down the stove. Also, we would like to suggest the owner of the unit regarding installing extra hand bars in the bathrooms. Again, it was a pleasure having you as our guest, and we look forward to hearing from you agian in the future! Mahalo, Gaia Hawaii

A Great Time

Stayed for 8 days in June, 2019

The place was as described, large, spacious and clean. While the sofas in the living room were a bit tattered they were comfortable. the beds were delightfully comfortable. The kitchen was in great working order. 5 Balconies with great views of the city, beach, etc.

Response from Asset & Management Int'l, LLC dba Gaia Hawaii Vacation Rental

03. July 2019

Aloha, Thank you very much for taking your time to write a review. We always like to hear our customer's experience at our unit. We apologize the couch in the living room were tattered. Unfortunately, we are unable to change the couch to a new one without hotel's permission. We are currently working with the hotel to have it replaced as soon as possible. We are glad you enjoyed our spacious unit and the view from the balcony. We hope to see you again soon, and have a safe trip home. Mahalo

We had so much fun in Hawaii.

Minato-ku Japan, 13. June 2019

Stayed for 8 days in June, 2019

We had a comfortable living in a large living room. Ala Moana Shopping Center was also convenient next door. Hotel staff was nice too. It was a shame that the sofa cloth in the living room was torn.

Response from Asset & Management Int'l, LLC dba Gaia Hawaii Vacation Rental

13. June 2019

Thank you for choosing Gaia Hawaii for your stay and providing your feedback and letting us know about this issue. It was a pleasure to have you as our guest and we hope to welcome you back soon.

Great space and location

Jennifer S. from Puunene United States, 06. May 2019

Stayed for 3 days in April, 2019

Such a beautiful unit and such a convenient location! Loved it and will stay again

Response from Asset & Management Int'l, LLC dba Gaia Hawaii Vacation Rental

07. June 2019

Aloha, I appreciate taking your time to write a review. It is always satisfying to hear that our guest had a pleasant stay. We look forward to seeing you again! Mahalo

Perfect accsess,Big issue on the facility maintenance

Yamada K., 18. February 2019

Stayed for 5 days in February, 2019

We spent 6days from Feb.11th to Feb.16th on was first time for us to stay at the condo of Ala Moana Hotel Vacation Rental.The view from the room on 34th floor was amazing and space inside was marvelously wide-open for 4 people. We believed that we had made a wright descision to choose this hotel on the 1st day.However,the emviroment drastically changed since we were annoyed the strong wind and rain broke into one of rooms frequently every nights Feb.12th. We reallized a gap from top to bottom on the left inside of the room.The window was unsealed between window and must have been deteriorated long time little by little. You should keep your eye on the facility maintenance for the guest's satisfaction though.

The stay satisfied

Chieri K., 02. December 2018

Stayed for 4 days in November, 2018

Next when staying in Honolulu, I'd like to stay overnight again.

Spacious

Kaneohe United States, 07. September 2018

Stayed for 3 days in August, 2018

Very pleased with this rental! Would rent again for sure.

Amazing City Views

karen b., 08. August 2018

Stayed for 6 days in July, 2018

Awesome condo.... great views of the city! Fantastic sun rises ... the city at night looks amazing. Great balconies. Tons of space! Does not disappoint ! Would highly recommend !

We feel like this is our Home in Hawaii.

Stayed for 5 days in May, 2018

This is our 3rd time to stay this large condo in Ala Moana Hotel. We loved this place. We always visit Hawaii with more than few older family members, to stay this place, they really enjoyed relaxing to feel the air in Hawaii, even just chatting with the beautiful ocean view. They already done sightseeing or visiting most of places before. This place is perfect for our family.



It was best.

MI YOUNG J., 12. March 2018

Stayed for 3 days in February, 2018

It's the best class that does not need words.

Response from Asset & Management Int'l, LLC dba Gaia Hawaii Vacation Rental

22. March 2018

Thank you very much staying with us! Looking forward to have you as our guest again near future!

An amazing room

Bryson L. from Waianae United States, 06. March 2018

Stayed for 3 days in March, 2018

This is the second time I have stayed in this room, third time with this company spanning back to when they were still Hawaii 50 Bacation rentals. This room is absolutely amazing. The view is good, the space is good, and the convenience of the location is good. My friends and I try to get a good room like this yearly for an event that happens around the beginning of the year. This is hands down the best one yet. We highly recommend it to anyone. Full kitchen, multiple bathrooms, giant living room. It's just great.

Just a warning... Having a big room like this, you kind of don't notice the mess you make. The very last day we tried to clean up as best we could but we didn't have enough trash bags. Apparently there was only 2 extra ones. Please keep more somewhere for future use. It would come in handy. So we tried our best to put it into grocery bags and all. Sorry to the person who had to clean our room!

Response from Asset & Management Int'l, LLC dba Gaia Hawaii Vacation Rental

22. March 2018

Thank you very much staying with us and thank you for sharing your feedback regarding your stay! Looking forward to have you as our guest again near future!

Overall a good experience

Manfred P. from Yulara Australia, 31. December 2017

Stayed for 12 days in December, 2017

Size of apartment is impressive and location are excellent. Furniture and layout are good. Stay could have been improved by paying attention to details. Kitchen utensils,pots and pans, glassware etc. need update or replacement (no wine glasses, assortment of plates, cups, etc)..cleanliness could also be improved. Two big issues however 1) mattresses ultra soft and in dire need of replacement;
2) coctruction noise early in the morning from neighbouring tower construction - quite upsetting when one is on vacation and guests should have been made aware of it at time of booking

Great 3 nights in Waikiki

Kristine T. from Seattle United States, 30. November 2017

Stayed for 3 days in November, 2017

We were in Waikiki for 3 nights for a Jimmy Buffet concert at the Shell and stayed at this property with another couple. The unit was very large and spacious and the views were gorgeous. We walked to most locations in Waikiki and it was convenient for us. The kitchen could have had a little better selection of glassware and the furnishings were a bit worn but the place was very clean. Overall it was a great experience. Beds were comfortable.

Response from Asset & Management Int'l, LLC dba Gaia Hawaii Vacation Rental

02. December 2017

Thank you very much for your comment. We are very happy to know that you enjoyed staying in the Ala Moana Hotel. We will work on providing a better selection of glassware near future!

Good experience

Miriam Vale Australia, 05. October 2017

Stayed for 8 days in September, 2017

Wifi unuseable, slow and difficult to connect. Aircon in main bedroom hot and noisy with loud squeaking sound. Furniture outdated and uncomfortable couch. Room was clean and tidy and great location. Enjoyed the views and height of the room

Very nice !!

Kawasaki-shi Japan, 27. August 2017

Stayed for 6 days in July, 2017

The location, the scenery and the interior were also the best.

Wonderful stay in the Regal Suite

Dina and Mark S. from Brampton CA, 30. May 2017

Stayed for 8 days in May, 2017

Our family had a terrific stay here. We were quite impressed with the friendly and efficient communications with the staff at Gaia even prior to booking as we had several questions due to it being our first visit to Oahu and their prompt reply during our stay. The hotel staff (front desk, concierge, bell, valet etc.)were also very helpful. Check in and out were super quick. Hotel amenities like the pool, gym and guest laundry were great. The hotel is right beside the Ala Moana shopping center, the beach park and the Hawaii Convention Center so it is a very convenient location. The suite itself is very spacious. All the beds (1 king and 2 queen) were comfortable and all the appliances, lights and TVs worked well. There were plenty of kitchen supplies and bathroom amenities like towels, shampoo/conditioner, soap, Kleenex, toilet paper as well as plenty of storage space for clothes and luggage/bags. Having a full kitchen was great for cooking some meals and the grocery store was close by as well as the hotel convenience/sundry shop. Also having 3 full bathrooms was great for a family. The room was clean and well-maintained and the air conditioner/temperature controls worked well. The views from all the balconies/lanais were amazing. Some suggestions: a clock in the living/dining area, more hooks in the bathrooms to hang towels for reuse/drying, and maybe an extra blanket/sheet. Highly recommend this suite and/or check out Gaia Hawaii's other vacation rentals. Their professional customer service is A+.

Family Trip

CHRISTINA C. from Vallejo United States, 23. May 2017

Stayed for 3 days in April, 2017

the rental is beautiful, views are amazing of oahu. its right next to the ala moana hotel, so lots to do. busy area, so its expected parking is hard to find, i recommend valet to save you a headache.

Honolulu and cruise

SHERYL L. from Canada, 29. March 2017

Stayed for 4 days in March, 2017

Beautiful place with great views from all the balconies. Easy walk to beach and about 15 min walk to Waikiki. Communication was great, always received a quick response to our questions.

Hawaii family vacation

United States, 27. March 2017

Stayed for 7 days in March, 2017

Condo needs major updating. Very poor Wifi. Old dirty sofa in living room needs to go.

Wedding week stay

Makoto E. from Seattle US, 20. October 2016

Stayed for 5 days in September, 2016

Overall satisfied with the room, accommodated family members from Japan. Though I was the one who booked and paid for, the room was under my husband's name which created a lot of issues during the stay. Issues with keys, incoming calls to the room from my family members and etc. Also, the fire alarm battery was low, which caused the loud beeping noise started in the middle of the night.

Most enjoyable time

Mario O. from United States, 30. September 2016

Stayed for 7 days in September, 2016

My friends and I from the Philippines had a marvelous time in Hawaii staying at your unit at the Illikai. The suite was spacious, well kept and right on the premises of the Ala Moana Shopping center. Walking distance to the beach and main Waikiki area. excellent accomodations

Perfect for family

CHATSWOOD AU, 31. March 2016

Stayed for 4 days in March, 2016

We had 5 adults and 2 toddlers and property was big enough to accommodate all of us. The apartment was huge. 2 big bedrooms, 3 bathrooms, massive living and dining area and fully equipped kitchen.

The apartment was on level 34 and had 4-5 balconies which gave 360 view of Waikiki and Ala Moana.

The apartment had short foot bridge access to the Ala Moana mall and short bus ride to main Waikiki area.

Few things wanting were it would have been good if the apartment had a safe and the dining chair was way low compared to the dining table.
Precise property address:
410 Atkinson Dr.
Honolulu
Check in / out
· Check-in after 4pm (16:00) · Check out is 12pm (12:00)
Amenities
Amenities
Amenities
List of amenities in this specific property
List of amenities in this specific property
Amenity

combination tub/shower

Business

Business Center, Nearby ATM, Nearby Bank, Nearby Post Office

Convenience

24hr Business Center, Baby-sitting services available, Fine Dining Restaurants, Fitness Center, Laundry Facility on Property, Meeting/Conference Rooms, Movie Theatres, Nearby Grocery, Nearby Medical Services, Outlet Shopping, State-of-the-art Fitness Center, Valet Parking Service

Culture

Diamond Head Crater Hike, Friday Night Beachfront Firework, Hawaiian Luau, Honolulu Academy of Arts, Honolulu Zoo, Symphony Orchestra, Waikiki Aquarium, Water Sports & Rentals, Water Sports & Rentals

Entertainment

Satellite / Cable, TV, Television

General amenity

Air Conditioning, Elevator, Fitness Room / Equipment, Hair Dryer, Internet, Iron & Board, Iron & Board, Linens Provided, Living Room, Telephone, Towels Provided
Geographic

Close to Town, Near Beach, Near Hawaii Convention Ctr, Near Shopping, Near Waikiki Beach, Next to Ala Moana Shopping Ctr

Kitchen

Coffee Maker, Cookware, Dishes & Utensils, Dishes & Utensils, Dishwasher, Full Kitchen, Kitchen, Microwave, Oven, Refrigerator, Stove

Living

Air Conditioning, Complimentary Internet Access, Complimentary WiFi, Dining Room Table, Flat Screen TV, Full Tub and Shower, Hair Dryer, High Speed Internet, Ironing Board, Linens

Location type

Mountain View, Ocean View, Resort

Outdoor

Balcony, Beach, Ocean Views, Shared Pool, Sun Terrace

Outside

Lanai / Gazebo

Sports and adventure activities

snorkeling, sound/bay fishing, swimming, tennis, water skiing, wind-surfing

Suitability

non smoking only, pets not allowed
Similar properties:
Other properties you might be interested in.