Search
Property detail & price proposal
Reserve
Thank you
Ala Moana Hotelcondo 3307 Presidential Suite 4bd/4bath-1K4Q
4br/4.5ba Presidential Suite Ala Moana3307,Spectacular Ocean Views! Book Now!
4 Bedrooms for 10 guests (max. 10)
410 Atkinson Dr., Honolulu
Contact a rental agent
Call us
US 808.784.3410
Canada 808.784.3410
or use Contact Us form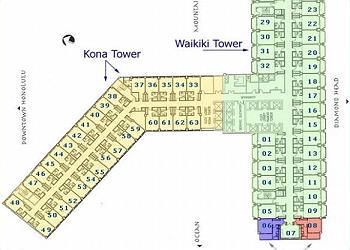 Description
Situated on the 33rd floor of the Ala Moana Hotelcondo, this one-of-a-kind Presidential Suite was originally designed as the hotel developer's personal residence. Featuring 4 bedrooms, 4.5 bathrooms, 2 living rooms, HDTV, complimentary Wi-fi, a gourmet kitchen, and full size washer/dryer. You will have ample room to sit back and relax. If the interior space isn't enough, you and your guests will enjoy taking in the spectacular views from any one of the 10 balconies surrounding the suite.

Adjoining the hotel is world-class Ala Moana Shopping Center with over 290 retailers showcasing the finest names in fashion and a delightful array of dining. Hawaii Convention Center is also just steps away, and when business is done, the 76-acre Ala Moana Beach Park welcomes swimming, surfing, and day-dreaming in a shady setting by the sea.

A multi-million dollar transformation reveals a stunning hotel with a contemporary character and island-style appeal. Casually sophisticated and comfortably appointed for business or leisure, you'll find mountain and ocean views enhanced by the rhythms of the city, splendid sunsets, and the pleasure of your surroundings. Honolulu's hot spot, Rumours nightclub, a pool with spacious new sundeck, an impressive fitness center, dry sauna, and steam room complete the amazing amenities.


****************What's Included?****************
-Hotel resort fee is included.
-We provide Welcome Kit (shampoo, conditioner, bar soap, paper goods: bathroom tissue, toilet paper and paper towel) for no refill or replacement during your stay.
-Free Wi-Fi

****************What's NOT included?****************
-We do NOT provide daily housekeeping services or towel/linen change. Coin operated washers and dryers are available on 6th and 13th floor.
-Parking is available in the building (based on availability) with an additional charge paid to the Hotel directly.


Hawaii State GET & TAT License #: 131-573-9648-01
Address

410 Atkinson Dr., Honolulu

Bathroom

4.5
Area

3063 ft2

Beds

4 Queen, 1 King
Reviews for this property
素晴らしいです

Chizuko N. from Abiko Japan, 24. October 2019

Stayed for 6 days in October, 2019

毎年、利用させて頂いております。素晴らしいロケーションと利便性です。
宿泊した方も大変喜んでおります。

Response from Asset & Management Int'l, LLC dba Gaia Hawaii Vacation Rental

25. October 2019

この度はGaia Hawaiiをご利用いただき誠にありがとうございます。 ご宿泊にご満足いただけた事をとても光栄に思います。 またのご利用お待ちしております。

good

las vegas US, 12. October 2019

Stayed for 5 days in September, 2019

view and room were very nice except the 2 great rooms furniture. One room was scarce, and the other was "tired and worn".

Response from Asset & Management Int'l, LLC dba Gaia Hawaii Vacation Rental

16. October 2019

Thank you for choosing Gaia Hawaii for your was a pleasure to have you as our guest and we hope to welcome you back soon. Mahalo, Gaia Hawaii

Wonderful holiday

Mitsugu I. from United States, 26. July 2019

Stayed for 6 days in July, 2019

I stayed at a condo for the first time. We stayed with 10 people and were satisfied with all the furniture. The Ala Moana Shopping Center was also close and easy to shop.

Response from Asset & Management Int'l, LLC dba Gaia Hawaii Vacation Rental

26. July 2019

Aloha, thank you very much for choosing Gaia Hawaii at Ala Moana Hotel. We are very glad to hear you and your party have enjoyed your stay at Ala Moana Hotel! I was a pleasure having you as our guest, and we look forward to hearing from you again! Mahalo

Family holiday for 7 of us.

CAMBRIDGE PARK Australia, 13. May 2019

Stayed for 5 days in April, 2019

This property has many benefits if you have a family stay. We each had plenty of room to socialise and loved the big dining table for family nights in. Loved that the Ala Moana shopping complex was just next door and spent a few day looking around. The food court was a handy place for a bite to eat and meet up with friends.

Response from Asset & Management Int'l, LLC dba Gaia Hawaii Vacation Rental

07. June 2019

Aloha, We appreciate taking your time to write a review. We are glad you have enjoyed your stay at Ala Moana Hotel, as well as the location. We look forward to hearing from you again. Mahalo

Presidential Weekend

Bryson L. from Waianae United States, 10. April 2019

Stayed for 3 days in April, 2019

Awesome experience as always. View was amazing and had more than enough room for everyone with us. The pictures really don't show how big the unit actually is.

Fantastic

Roy H. from Ontario US, 26. November 2018

Stayed for 4 days in November, 2018

My family stayed for 5 days at rom 3307. Everything was great. The view over looking waikki was fantastic. I would give the hotel a high 5.

great!

Chizuko N. from Abiko Japan, 13. October 2018

Stayed for 6 days in October, 2018

Great!
Our trip was very good
Room is very comfortable


Review of Presidential Suite

Renton United States, 01. August 2018

Stayed for 4 days in July, 2018

We had an outstanding experience with both the accommodation and response with the management. The suite was clean and well supplied with necessities. The location next to the Ala Moana Shopping Center was ideal for shopping the restaurants. I can highly recommend this rental unit.

AMAZING PROPERTY!!!

Melissa C. from Chicago United States, 13. June 2018

Stayed for 7 days in May, 2018

Perfect condo for my staff and I to stay in while attending a conference at the convention center. Everything was great. The views alone made it worth it. Thank you!!!

Spectacular views, great for groups!

San Francisco US, 20. April 2018

Stayed for 10 days in April, 2018

Eight of us stayed here for 10 days, and we enjoyed every minute! The views of Ala Moana Beach Park and the ocean towards Ewa from the two living room balconies were mesmerizing. Views from the other 8 balconies (every bedroom has its own balcony and the dining area has three) are equally attractive wherever you look – towards Waikiki or the mountains behind Honolulu. The kitchen, dining area, living rooms and entry spaces are generous for socializing. They're filled with natural light during the day and there's plenty of ocean breeze. The main kitchen area lets several people work together, while the second kitchen with its refrigerator and microwave amount to a wet bar space. The bathrooms for each of the bedrooms are generously sized. The master bedroom, especially, is quite generous and has its own wonderful views of the mountains and ocean. Gaia was very easy to work with. A couple hiccups – nothing serious – were addressed immediately and with apologies. If you know Honolulu, the Ala Moana Hotel location is extremely convenient for getting everywhere, whether you're driving somewhere, walking to the beach or going shopping at Ala Moana or Ward. This space is hard to beat for a group of 8 people, and I recommend it highly.

Super

Duluth United States, 16. November 2017

Stayed for 5 days in November, 2017

Excellent!!!

Response from Asset & Management Int'l, LLC dba Gaia Hawaii Vacation Rental

19. November 2017

We are happy to hear that you enjoyed your stay at Ala Moana Hotel. Thank you very much for choosing us & hope to hear you again near future!

Successful Bachelors Trip!

San Jose US, 08. August 2017

Stayed for 5 days in July, 2017

Upon walking into the suite all 9 of our mouths dropped at the view welcoming us. Each wall of the suite had a great view.

Each room had enough space to accommodate the bed occupancy. They were also clean and each had its own temperature control, which was nice.

Property management informed me a few days before our check in that the pull out bed in the living room was broken and they had provided 2 full/queen sized premium air mattresses, which worked out great!

Kitchens were well stocked with all the things you would need to cook for yourself, minus the food of course(if you wanted), with top of the line appliances.

Location was great. We didn't want to be in the middle of Waikiki, but also didn't want to be too far from it either. Just downstairs is the Ala Moana Center and Mall which was very convenient. It's a big hotel name so any type of activities you may have planned that offers shuttle service can be here to pick you up, which is fantastic.


My only 2 complaints were that the master bedroom bed felt a little outdated and stiff compared to the other bedrooms which were very plush in comparison.

The other, lighting in the suite was a bit least in the common areas as well as some of the bathrooms.

Overall a very impressive suite that I would definitely consider renting again in the future.





Most Beautiful Suite I've ever seen

Alexis C. from Stockton US, 15. October 2015

Stayed for 4 days in October, 2015

Hands down the best vacation I've ever had. The pictures of this suite do no justice! This suite is beyond beautiful, was wayyyy more than I expected. It was super big and provided so much space for 10 of us. I love each room has its own bathroom. The breath taking panoramic views. Having the double sliding glass doors open completely to see the beautiful ocean view in the first living room, I didn't want to leave. I will most defiantly book this suite again. It was amazing! Thank you Hawaii 5-0 Vacation for making this trip a wonderful experience.

family trip

Jiyun K. from United States, 04. October 2015

Stayed for 8 days in September, 2015

Was ok. A little bit dirty and bad service but if its just to sleep then fine.

Parents 50th Wedding Anniversary

Chula Vista United States, 09. May 2015

Stayed for 7 days in April, 2015

I was so happy with my previous 2010 booking that I booked with Hawaii 5-0 again for my parents 50th Wedding Anniversary Vow Renewal. Because my entire family was there to celebrate, I decided to book the Presidential Suite because it would accommodate most of us. The suite was awesome with views from every room. The spacious living and sitting rooms made it easy to have the entire family able to congregate with ease. I had booked the suite over a year in advance of the trip and the system was not able to accommodate the dates so I had a little trouble checking in. But overall, the stay was fantastic! We celebrated my parents vow renewal in the same church they were married in 50 year ago. Thank you for making such a wonderful memory for our family!

It was a wonderful stay!

Tokyo Japan, 18. December 2014

Stayed for 5 days in December, 2014

9 people stayed, enough bathroom for each individual, rooms were clean, enjoyed Japanese food with rice-cooker, fine & large refrigerator, freezer, glasses, cups and plates.
Everybody enjoyed their stay very much, thank you.

Great Family Location

Russell P. from Shepparton Australia, 08. January 2014

Stayed for 10 days in December, 2013

Excellent accommodation that suited our family very well.

Outstanding Customer Services & Best vacation ever!

Chanel C. from Fremont United States, 27. August 2013

Stayed for 5 days in August, 2013

Property management always response our request immediately! We had 7 adults and 2 children stayed in this big rooms and all of us loved it ! The best part of property is the nice kitchen! We even found Rice Cooker and tea pot set! Location is perfect! We had best vacation stay ever ! Will book it again if we are going again!

Family vacation at the Ala Moana

Martyn E. from Perth Australia, 29. April 2013

Stayed for 7 days in April, 2013

Room 3307 Ala Moana Presedential Suite was a delight from the moment you opened the door and saw the view facing you from the picture window opposite. Plenty of room for our party of nine (we had the adjoining unit) to move around. Kitchen well appointed which was fully stocked and laundry had good size washing machine and dryer. The location of the Ala Moana is a good 20 minute walk from Waikiki Beach but for me that was an advantage. There was a couple of safe beaches across the road (5 minute walk) if that's what you want. Getting to Waikiki was no trouble with cheap bus and taxi travel. Right next door is the huge and i mean huge Ala Moana shopping centre which had everything including a food hall underneath which offered a wide range of choice. The views were extensive from all the ample (10 in all) verandas (lanai). I should say million dollar views because that's what they are. The whole week was trouble free.
I only have one negative comment and that is the tiled flooring in the common areas had not been washed only swept. Your feet would end up black which led to a few dark stains on the carpet as you entered the bedrooms.
In conclusion, the week was magnificent and I would recommend the unit to anyone. Mahalo

Fantastic stay in Hawaii

Takahiro A. from akita-city Japan, 26. February 2013

Stayed for 6 days in February, 2013

We are very very satisfaction this stay.
Fantastic view,near by Alamoana shopping center,nearby park,beach,some good restaurant.
and very kindness booking staff.
Thank you very much!


ala moana penthouse

Jake P. from Singapore Singapore, 21. December 2012

Stayed for 5 days in December, 2012

we'd a great time in honolulu and the apartment is fantastic.

we'd arrived at ala moana at 1100 having arrived from Seoul at 0930 and tried to get our keys earlier from the reception counter (official check-in was stated as 4pm) but reception had told us that we'd to call Hawaii 5-0 as the hotel only does the check-in and are not authorised to do so unless instructed by the landlord.
after a few attempts at calling, we then decided to have lunch first. while at lunch at the ala moana mall next door, i managed to contact cheryl who told us that it was not a problem to get the keys earlier as the room was vacant anyway. that really helped as some of us had been in the air for almost 20 hours.

the property is beautifully furnished and very functional.
there were altogether 4 bedrooms with an additional family room (which was converted to a single bedder) so there were plenty of space.

all rooms had fantastic views (although some faced waikiki which is mostly buildings blocking the ocean) with at least some if not full views of the ocean. fully airconditioned (which you may not think necessary but its good to be able to keep the lanai doors closed especially if you're a light sleeper with the intermittent police siren on the streets), plenty of towels and soaps to last 5 days (we only couldn't find the laundry detergent), and everything worked well.

the apartment had exceed all our expectations and we'll definitely consider using Hawaii 5-0 for our next family vacation. we may even end up at the ala moana hotel again for its convenience and great location.

thanks Hawaii 5-0 and especially cheryl


ala moana is a little off waikiki but we managed to walk there from ala moana beach (its a good 30-40 minutes walk if you're not in any hurry which we weren't).





Best holiday!

Brisbane Australia, 26. November 2012

Stayed for 7 days in November, 2012

We couldn't believe the view when we opened the doors! Everything about the Presidential Suite was wonderful. We were a bit worried about booking our accommodation on line but Hawaii 5-0 Vacation Rentals were fantastic - happy to answer all of our questions and extremely helpful. We all had a fantastic time and can't wait to return to the Presidential Suite to see more of Oahu. We were very impressed with the Presidential Suite and Hawaii 5-0 Vacation Rentals!

The Peterson Stay

Carl P. from Tamuning United States, 15. October 2012

Stayed for 5 days in October, 2012

Overall we had a terrific stay-it was perfect to get siblings and my adult children together.
To be critical, the floor needed to be mopped and cleaned because everyone's feet were getting black (don't know if some was coming from the balcony or not); the ceiling fans were not working, and the digitals on the oven do not work. But otherwise, perfect stay for all of us; appointments are great; and very useable kitchens. Thanks for the utensils to make the kitchen efficient!

Experience of Presidential Suites at Hawaii

Katsuhiko S. from Bellevue United States, 18. August 2012

Stayed for 3 days in August, 2012

generally good,floor cleaning more need
freezer is hard to open,we can't use.

Wonderful location and fantastic suite!

Chatswood Australia, 12. April 2012

Stayed for 5 days in April, 2012

Very convenient location to transport and shopping. Presidential Suite was an impressive, lovely apartment.
Kids had a wonderful time at the beach across the road. Beach towels were supplied in apartment, which was very handy.

Free Internet was great, but was not wifi. Internet cable supplied.

Lovely to have a full kitchen, but as an Aussie, we missed an electric kettle.
Overall, very impressed and would recommend this apartment. Customer service was excellent.
Precise property address:
410 Atkinson Dr.
Honolulu
Check in / out
· Check-in after 4pm (16:00) · Check out is 12pm (12:00)
Amenities
Amenities
Amenities
List of amenities in this specific property
List of amenities in this specific property
Business

Business Center, Nearby ATM, Nearby Bank, Nearby FedEx, Nearby Internet Cafe, Nearby Post Office

Convenience

Dry Sauna, Fine Dining Restaurants, Fitness Center, Golf Course, Laundry Facility on Property, Meeting/Conference Rooms, Movie Theatres, Nearby Grocery, Nearby Medical Services, Valet Parking Service

Culture

Diamond Head Crater Hike, Diving, Friday Night Beachfront Firework, Hawaiian Luau, Honolulu Academy of Arts, Honolulu Zoo, Surfing, Symphony Orchestra, Waikiki Aquarium, Water Sports & Rentals, Water Sports & Rentals

Entertainment

Satellite / Cable, TV, Television

General amenity

Air Conditioning, Clothes Dryer, Elevator, Hair Dryer, Iron & Board, Iron & Board, Linens Provided, Living Room, Telephone, Towels Provided, Washing Machine

Geographic

Close to Town, Near Beach, Near Hawaii Convention Ctr, Near Shopping, Near Waikiki Beach, Next to Ala Moana Shopping Ctr

Kitchen

Coffee Maker, Cookware, Dishes & Utensils, Dishes & Utensils, Dishwasher, Full Kitchen, Kitchen, Kitchenette, Microwave, Oven, Refrigerator, Stove, Toaster, Wine Cellar Storage (Sub-zero)
Leisure activities

antiquing, beachcombing, bird watching, eco tourism, horseback riding, luaus, outlet shopping, photography, scenic drives, sight seeing, walking, whale watching

Living

Air Conditioning, Chaise Lounge, Complimentary Internet Access, Desk, Dining Room Table, Flat Screen TV, Full Tub and Shower, Hair Dryer, High Speed Internet, Ironing Board, Linens, Washer & Dryer, Washer & Dryer

Local services and businesses

ATM/bank, fitness center, groceries, massage therapist

Location type

Beach View, Ocean View

Outdoor

Balcony, Beach, Deck, Ocean Views, Shared Pool, Sun Terrace

Outside

Balcony, Lanai / Gazebo

Pool spa

Communal Pool, Sauna

Sports and adventure activities

ice skating, jet skiing, sailing, scuba diving or snorkeling, snorkeling, surfing, swimming, tennis, wind-surfing

Suitability

non smoking only, pets not allowed
Floor plan
Floor plan Approximate floor plan of this property
Floor plan
Approximate floor plan of this property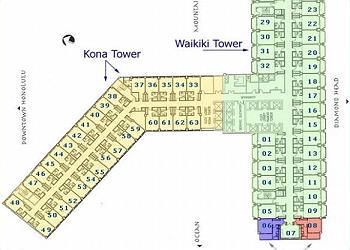 Floor plan Approximate floor plan of this property
Floor plan
Approximate floor plan of this property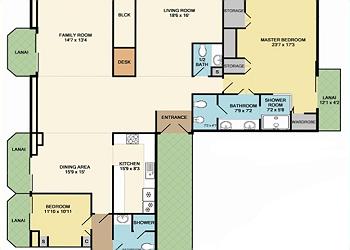 Similar properties:
Other properties you might be interested in.